"Thank you to all the volunteers (parents and grade 5s) who came out to help run the bottle drive and donut sales! We had lots of fun and got to meet some new people! We raised $1,300 from donuts alone and will know our total from the bottles in a week or so!  Well done PEXSISEN!!!
Family Game Night is coming up next week on Thursday, Oct. 26th at 5:30 – 7:30pm. So mark your calendars and come join us for some laughs! We will have a concession stand, and be selling 50/50 tickets, and the Book Fair will be open (cash and cards accepted event wide).
We are so thankful to our school family, for all the incredible support and time everyone is able to offer, lets relax and have fun!"
Heather Fulmore
PAC Fundraising Rep
PEXSISEN Elementary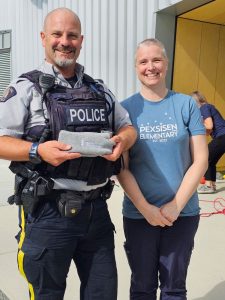 What an amazing group of people !  Together we raised $3250. 90 to help fund pediatric cancer research and send children to Camp Goodtimes.   We are so proud of our community.  Above are two incredible people- Nevada Kaludjer, our music teacher, and Constable Mark Hall. They had their hair shaved to support this cause.  Bravo, to the two of you!   Together, we are making a difference in the lives of children every day!
Hi all,
Not only is Nevada Kaludjer going to shave her hair in support of the Tour de Rock fundraising campaign, so is our police liasion officer, Constable Mark Hall.   Please see the message below from Constable Hall.
We have raised over $600.00 and have upped our first goal of 1000.00.  We are hoping to raise $2000.00 and we think we are going to do it!  The students and families at Centre Mountain Lellum are also fundraising in support of this initiative.  We are incredible community!
The riders will be coming by the school at 12:24 tomorrow.  All the students and staff will be out there cheering them on.  Our amazing PAC is going to be providing them a delicious lunch to help fortify them on their way to Sooke for the next stop.   Thank you everyone!
Looking to support Cops 4 Cancer fundraising? Here's how!
West Shore
2023-09-29 11:38 PDT
Cops for Cancer Tour de Rock is underway! Riders are cycling 1,200km from Port Alice all the way to Victoria to raise money for pediatric cancer research and Camp Good Times.
The ride will be stopping at PEXSISEN Elementary School on October 4 at noon. West Shore RCMP Community Policing Officer Cst. Mark Hall will be shaving his head at the school to raise funds for the ride.
The monies raised will go toward sending a child suffering from pediatric cancer to Camp Good Times, a recreational camp that provides a space for children with a cancer diagnosis to just be kids in a safe supportive environment.
The school is currently halfway toward reaching their $1000 fundraising goal. If you are able to donate to this worthy cause please do so by visiting the schools fun1draising page online.
Cops for Cancer Tour de Rock is coming!
Between September 23 and October 6, 19 Cops for Cancer Tour de Rock riders will cycle 1,200km from Port Alice all the way to Victoria. Why? To support children and families living with cancer. All funds raised will go towards pediatric cancer research and a very special place called Camp Goodtimes. Camp Goodtimes is a summer recreational camp that provides a space for children with a cancer diagnosis to just be kids in a safe supportive environment.
They will be coming to visit our school on October 4. We will give them a very warm welcome and show our support. They are going to visit with us and enjoy a lunch provided by our PAC.
You can make a difference by donating today on our school's fundraising page or purchasing a raffle ticket. Every dollar helps Cops for Cancer Tour de Rock pedal their way to end cancer.
For more information, you can visit tourderock.ca.
Thank you for your generous support and we can't wait to welcome the team at our school.
Please click this link to learn about these special riders.
The PAC is sponsoring a Bottle Drive on October 14th.  Don't forget to save your bottles!  We will have more information about times and location in the next week.  PAC will also be sending out a link for volunteer sign-up.   Stay tuned!   This will also be the pick up date for Krispy Kreme donut orders.